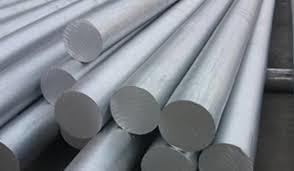 Product Description
Aluminium alloy 6082 is a medium strength alloy with excellent corrosion resistance. It has the highest strength of the 6000 series alloys. Alloy 6082 is known as a structural alloy. In plate form, 6082 is the alloy most commonly used for machining. As a relatively new alloy, the higher strength of 6082 has seen it replace 6061 in many applications. The addition of a large amount of manganese controls the grain structure which in turn results in a stronger alloy.
It is difficult to produce thin-walled, complicated extrusion shapes in alloy 6082. The extruded surface finish is not as smooth as other similar strength alloys in the 6000 series.
In the T6 and T651 temper, alloy 6082 machines well and produces tight coils of swarf when chip breakers are used.

This grade is a medium strength alloy with excellent corrosion resistance. Replacing 6061 in many applications, it has the highest strength of all 6000 series alloys.
6082 T6 Aluminium rods that available in various diameters.
FEATURES and BENEFITS:
Aluminium rods

6082 T6 Aluminium

Formed as round bars

Various diameters available

Various lengths available
APPLICATIONS:
Highly stressed applications

Transport applications

Trusses

Bridges

Cranes

Milk Churns
Alloy Designations
Aluminium alloy 6082 also corresponds to the following standard designations and specifications but may not be a direct equivalent:
AA6082
HE30
DIN 3.2315
EN AW-6082
ISO: Al Si1MgMn
A96082
Weld ability
6082 has very good weldability but strength is lowered in the weld zone. When welded to itself, alloy 4043 wire is recommended. If welding from 6082 to 7005, then the wire used should be alloy in 5356.

Weldability
Gas: Good Weldability
Arc: Good Weldability
Resistance: Good
Brazability: Good
Solderability: Good
Fabrication
Workability - Cold: Good
Machinability: Good
Contact Us
245/247, Alankar Theatre Building, 3rd Floor, Office No. 15, S.V.P. Road, Near Petrol Pump,, Mumbai, Maharashtra, 400004, India
Phone :+918068344265