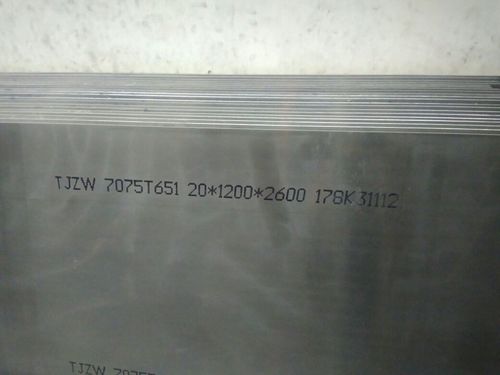 Aluminium Alloy Plate 7075
Price And Quantity
Product Specifications
Product Description
Aluminium Alloy Plate 7075
The main alloying element in 7075 is zinc. 7075 was the first Al-Zn-Mg-Cu high-strength alloy that utilized the addition of chromium as an alloying element, resulting in good stress-corrosion cracking resistance for sheet products. Although 7075 Aluminum has no weldability, a low level of corrosion resistance and only offers average performance this alloy offers considerable fatigue strength. With a high strength-to-density ratio, 7075 alloys are often used in applications such as rock climbing equipment, hang glider airframes, and military rifles. Not surprisingly, 7075 aluminum is still considered the go-to alloy for the aircraft and aerospace industries today.
If you are looking for 7075 T651 aluminum we are here for you. With more than ninety years of successful metals distribution under our belt, the aluminum experts at Howard Precision Metals have acquired a wealth of knowledge regarding the properties of aluminum and truly understand how aluminum will perform when used in a wide range of industries. We are the preferred 7075 aluminum plate suppliers for a number of aircraft and aerospace companies, as well as providing 7075 T6 aluminum to companies in the engineering, energy, automotive and construction industries. No matter what the nature of your project, we have the 7075 T651 aluminum for sale that you need.
7075 aluminum is well-known for its fatigue resistance. An economical choice for applications where frequent movement, pressure changes or other stresses are likely to be a regular feature, the 7075 aluminum alloy is a preferred choice for everything from bicycle parts to firearms.
7075 Aluminum Applications
In terms of strength, 7075 Aluminum is near the top of the list among aluminum alloys manufactured for the needs of consumer and industrial markets. Among other 7XXX alloys, alloy 7075 exists as a standard with a solid mix of properties suitable for aircraft and aerospace applications. In particular, this alloy utilized in various forms, including as 7075 aluminum bar, is well-suited for use in parts that endure high-stress levels. The strength properties of alloy 7075 are beneficial for the manufacture of items such as aircraft structures, military grade rifles, bicycle parts and equipment, and plastic industry molds.
7075 T651 Aluminum
An aluminum alloy best suited for aerospace and aviation applications is 7075 T651. This tempered alloy has a high tensile strength which makes it particularly applicable for certain high-strength applications.
Trade Information
Africa, Middle East, Western Europe, Eastern Europe, South America, North America, Central America, Australia, Asia

All India
Contact Us
245/247, Alankar Theatre Building, 3rd Floor, Office No. 15, S.V.P. Road, Near Petrol Pump, Mumbai, Maharashtra, 400004, India
Phone :+918068344265