About Our Company
Owing to our huge industrial experience we, Maharashtra Metal(India) are considered as an expert trader, importer and exporter. Our range that is at par with the international standards includes Aluminium Round Bars, Aluminium Tubes, Aluminium Pipes, Aluminium Plates, Aluminum Coils, Aluminium Checkered Plates,Aluminium Square Tubes, Aluminium Angles, etc. All these products are available in several specifications so that customers can choose products exactly as per their needs. Exceptional resistance against rust and corrosion and high tensile strength are features for which range is preferred. Our quality-marked line of products find usage in industries such as Aerospace, Ship Building, Sugar, Packaging, Marine, Mould etc. For more than 40 years we have been serving all our clients with honesty and dedication. All the products that we supply are obtained from authorized companies. Clients that are associated with us are satisfied by our services and our habit of always fulfilling what is committed. Customers trust us and this clearly visible in their repeated orders. We timely deliver orders of valued customers with the help of reliable logistics companies. For safe shipment, we use quality packaging materials.

Quality Testing Process
We offer a huge range that includes Aluminium Tubes, Aluminium Pipes, Aluminium Sheets, Aluminium Plates, Aluminium Extrusions etc.Customers are assured that they never have to worry about quality as our products are admired by all those who have obtained assortment from us. After procuring items from our partners, we check products thoroughly. Following are some of the tests that are done at our quality control testing unit under the supervision of expert team:
Flattening/Flaring Test

Hardness Test

Pitting Resistance Test

Material Identification Test

Chemical/Mechanical Test

Resistance Test
Packaging

Packaging of products before their delivery is very important to avoid chances of transportation damages. We have a separate department for packaging, where high quality packaging materials like carton boxes, sacks etc., are used to well-pack products. Customers are promised that they will not find any defect in our range because we stay careful at each step of product-sourcing and quality testing. We make sure that products are safe while they are on their way to customers' address.
Application
Our offerings find their usage in many different industries such as:
Aerospace Industry

Ship Building Industry

Sugar Industry

Packaging Industry

Defence Industry

Marine Industry

Mould Industry

Building & Construction Industry

Engineering Industry

Precision Machinery & Metal Works Industry

Power & Transmission Industry

Automobile Industry

Transport Industry

Heavy Machinery Industry

Fabrication Industry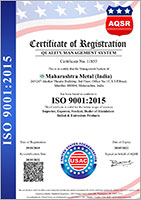 Read More